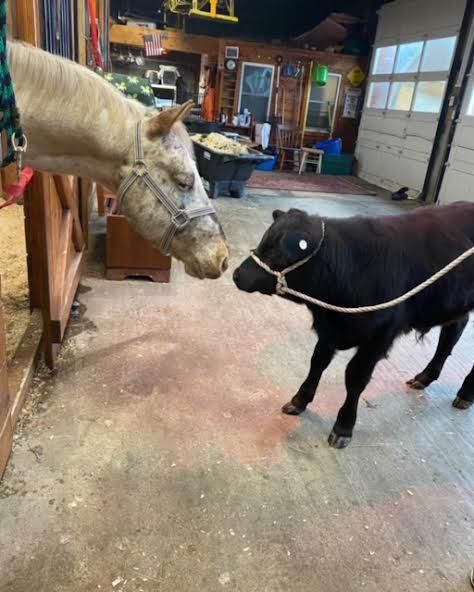 Winston And Noah.
Update On Winston: Still Having Loss Of Eyesight.
I First Would Like To Say Thank You To Everyone For Your Support. Winston Has Been Maintaining Well. But We Had To Move Him Into A New Location That Will Be More Fit For His Condition.
August 30th 2023 I Was Able To Move Him. Winston's New Home Has 5 Other Horses And 3 Goats And A Few Dogs. It Is Very Quaint And Personal. Winston Has A New Trainer And A Nutritionist. Winston Was A Hunter Jumper And Was Showing, But Unfortunately His Career Had Stopped Early In His Life. Winston's New Trainer Keeps Him Exercising And She Is Very Connected With Working With Him. I Make Sure He Is On A Good Diet. He Gets His Eye Drops In The Am And Pm. Keeping His Inflammation Down Is Very Important And Keeping Pressure Down Around His Eyes. Massaging Him To Keep His Nervous System Calm.
Read More…………Short Story………..About Winston.
In May 2023 When I Adopted Winston We Had Just Lost Our Best Loving Friend. His Name Was Noah. Noah Was A Bull Calf That I Bottle Fed And Gentled Him To Walk On A Lead Line. Noah Was Like A Gentle 600 Pound Puppy. Noah Was Winston's Best Friend And Was Winston's Protector When They Were Outside And They Slept Side By Side. When Winston Was Spooked He Would Run To Noah For Protection. Noah Became His Eyes At Times. Very Sad To Say, Only At 8 Months Noah Had To Be Put Down In April Because Of An Object Caught In His Intestine And It Was Un-Operable.
So Winston's And I stayed with Noah. Family And Friends came to help and we where all together For A Few Days Keeping Noah Comfortable Until We Had To Put Noah Down. I Made A Promise To My Lovely Noah That I Would Protect Winston. My commitment was to Find Winston A Good Home And Keep Him Safe. Winston Now Has A Nickname Winy.
My Granddaughter Sees Him As A Magical Little Pony.. So We Call Him Winy My Little Pony I Will Keep Everyone Updated On Winston. I Am So Grateful To Have This Journey In My Life In Hopes To Help Others With A Horse That May Have The Same Disease As Winston. Share The Gift Of Love Thank You Again Everyone. Sun Rose Healing Rose