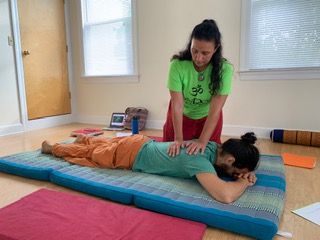 3 hour Thai Yoga Workshops Sunday Sept.15th and Oct. 13th Time:4pm to 7pm
Come experience this ancient healing practice rooted in Ayurvedic and Chinese medicine. Learn ways to enhance your personal and professional practice. Thai Yoga Massage is a natural and effective way to activate energy. Combining yoga postures, gentle stretching and movements while applying pressure on the energy lines. No experience required.
To register, contact Sunrosehealing@gmail.com Cost $60 per person
Space is limited Pre- register before Sept. 13th and Oct. 10th.
paypal.me/sunrosehealing (pay as "friends & family" to avoid paypal fees)
Yoga Nidra Instructed by Jamie DellaVople or SunRose
Yoga nidra is translated as the yogic sleep. It is like an extended savasana ( the relaxation we take at the end of class). During this time you will reach a state of consciousness between waking and sleeping as you are led on a guided meditation/journey through relaxing every part of you body. This liminal state is a powerful portal where profound healing can occur. Yoga Nidra can help relieve stress-related conditions. We will begin with light stretching and restorative poses to loosen up tension. There will be blocks and blankets provided, no yoga experience necessary. Come in and relax into this deeply healing state.
Date: 3rd Sunday of every month. Time: 6pm to 7:15pm
Cost: Pre-Register $18.00
http://Paypal.me/sunrosehealing Pay as " friend & family " to avoid any PayPal fees.
$20.00 at the door